Make an impact in your community with Twin Cities R!SE
Twin Cities R!SE relies on the tremendous dedication of our volunteers in every aspect of our operations – we could not function without them.
Our volunteers tell us that they love working with Twin Cities R!SE because they get to see the tangible impact of their work, whether they're giving mock interviews, helping out at the front desk, or planning events.
Join us and make a profound difference in the lives of our participants while having fun and meeting others. We have a wide variety of opportunities and will work with you to find the perfect fit for your skills, interests and availability.
Becoming a volunteer at Twin Cities R!SE is easy, and volunteering with us is impactful, fun and rewarding! Your first step is to fill out a Volunteer Orientation Request to reserve your spot at an in-person training.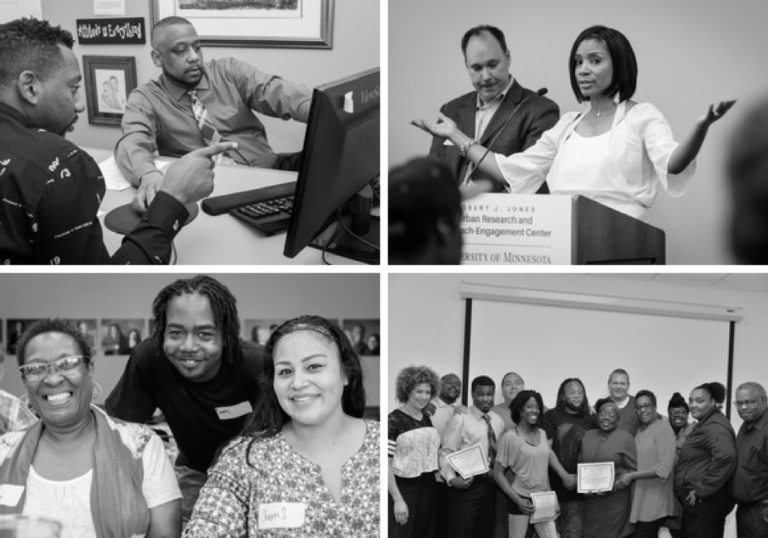 Virtual Mock Interviewers
Play an essential role in shaping participants' future success by conducting virtual mock interviews individually or in a group. Your expertise and feedback will help participants refine their interview skills, gain confidence, and excel in real job interview settings, making a tangible impact on their journey towards meaningful employment and transformative life changes.
Empower Twin Cities RISE participants by becoming a professional mentor. Guide and support individuals who have completed our programs, leveraging your expertise to help them navigate challenges, set career goals, and make informed decisions, making a meaningful impact on their journey to success.
Support virtual or on-site classes in areas such as computers, writing, and job searching, assisting participants with technical issues and providing guidance to help them develop essential skills for success in today's job market.
Join our HR Spotlight initiative and help Twin Cities RISE participants by sharing your company's job opportunities. By showcasing open positions, internships, or apprenticeships within your organization, you'll provide valuable access to employment opportunities, fostering a more inclusive and diverse workforce while directly supporting participants in their job search efforts.
Your unwavering dedication and selfless contributions have made a lasting impact on our community. We are immensely grateful for the time, effort, and heart you have invested to empower and uplift those we serve. Together, we are making a difference and creating positive change. Thank you for being the driving force behind our mission's success!
Complete the one-page application to be added to our volunteer list.
To view our events calendar to schedule
yourself or a group for an event
Upcoming Volunteer
Events
To cancel or change a shift, contact volunteer coordinator, Tynaia Pittman directly
INTERESTED IN TWIN CITIES R!SE NEWS?
Sign up for the Twin Cities R!SE e-newsletter. We do not share your information with others.