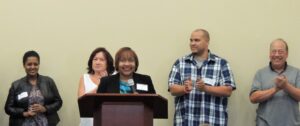 As I retire from Twin Cities R!SE today, I am reflecting on my wonderful journey here.  There is an environment at Twin Cities R!SE that creates successful people. I have worked in the social services field for over twenty years, working with the homeless, chemically dependent, formerly incarcerated and mentally challenged.  
Read More »
INTERESTED IN TWIN CITIES R!SE NEWS?
Sign up for the Twin Cities R!SE e-newsletter. We do not share your information with others.